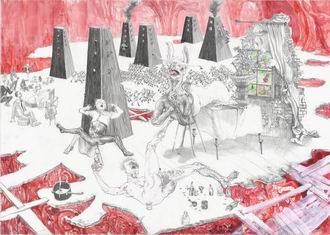 PETER FEILER
Gruppenausstellung Peter Feiler
OPENING
Thursday, November 5, 2009, 7pm

ADLER - FRANKFURT AM MAIN
NOVEMBER 6, 2009 – January 9, 2010
We all struggle with inner contradictions – this also applies to Peter Feiler (1981, Halle an der Saale, Germany).

The artist uniquely demonstrates this in his third solo exhibition titled "Gruppenausstellung" (group exhibition). Mostly, his works inhabit the borderline between wit and horror. This time, however, the artist has not constrained himself to only displaying works that focus on his central theme: the abyss of human existence. Peter Feiler captures his critical view of society with sharpness, unwillingness to compromise and the application various techniques onto paper and canvas. In the process, he emphasizes the surreal assembly of specific social topics and the political personalities involved.

The crayon, this uncommon medium, adds a pastel colorfulness and an almost childishly innocent patina standing in sharp contrast with the almost pornographic poses of many of his protagonists; thus putting his grotesque figures into perspective. The soft coloring and the filigree execution of the oversized leaves will beguile the beholder into the richness of detail, only then to be confronted with the full brutality that inhabits the darkest side of the human soul.

As it seems, the actual portrayal of horror is not absolutely necessary to create horror. It's the feeling of fright and bewilderment they convey, that serves to connect the works of Peter Feiler's "Gruppenausstellung".